Freny Fernandes
2023-05-12 03:03:17
www.visualcapitalist.com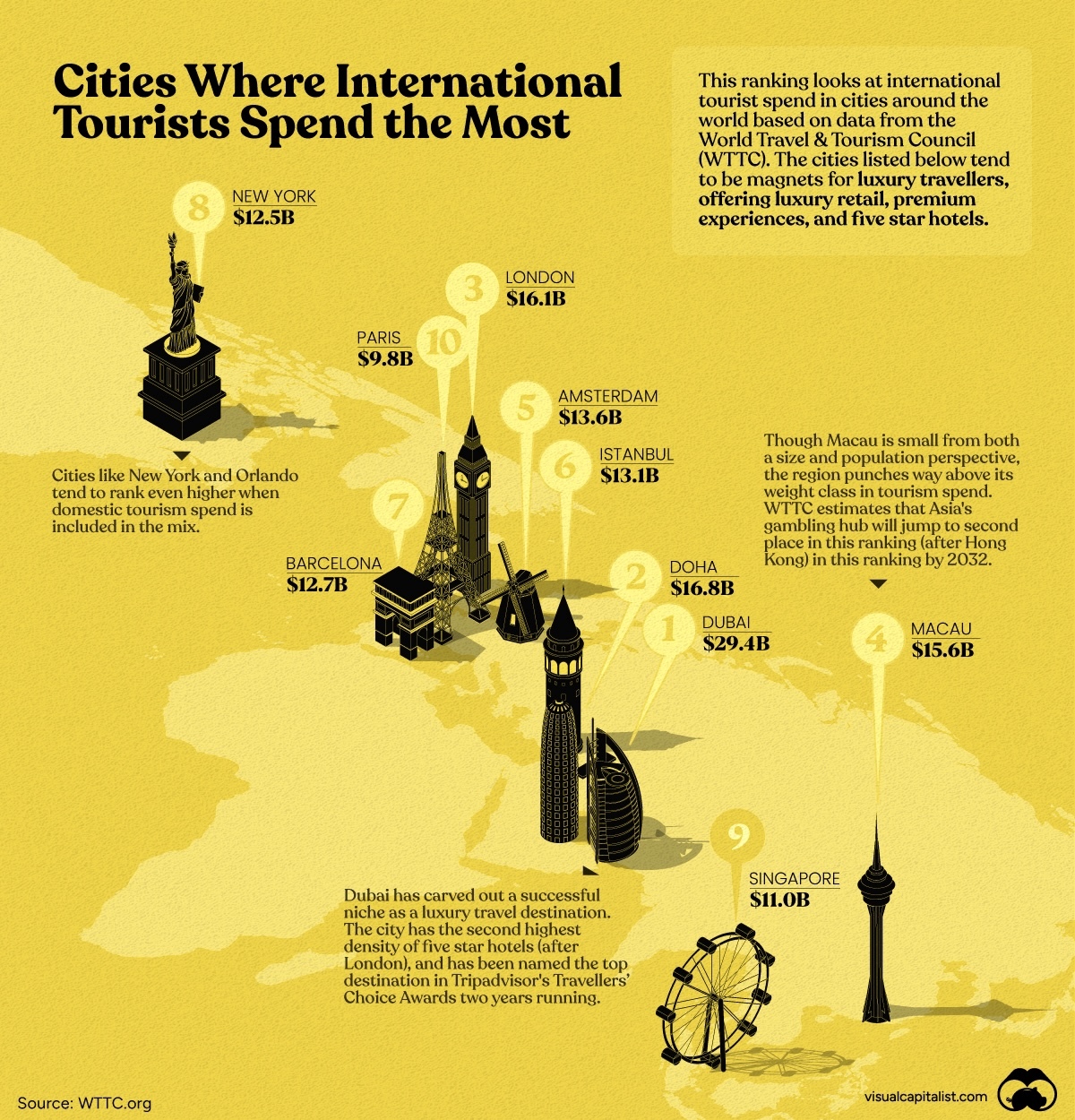 Top 10 Cities Where International Travelers Spend the Most
When it comes to travel, some tourists spare no expense. And some cities are well suited to attract them.
From the luxurious desert city of Dubai to the city of light and love, Paris, many international travelers today are looking to tick the crème de la crème of destinations off their bucket lists. In some cases, they're seeking out the opulent experiences they missed out on when the pandemic brought the world to a halt.
In this graphic, we use the latest research by the World Travel and Tourism Council (WTTC) to highlight the top 10 cities where international travelers spent the most in 2022.
Cities of Opulence
Last year, Dubai took top spot, followed by nearby Doha, Qatar.
| Rank | City | Country / Region | Income from International Tourists (2022) |
| --- | --- | --- | --- |
| #1 | Dubai | UAE | $29.42B |
| #2 | Doha | Qatar | $16.79B |
| #3 | London | UK | $16.07B |
| #4 | Macau | Macau SAR | $15.58B |
| #5 | Amsterdam | Netherlands | $13.59B |
| #6 | Istanbul | Türkiye | $13.13B |
| #7 | Barcelona | Spain | $12.73B |
| #8 | New York | U.S. | $12.45B |
| #9 | Singapore | Singapore | $10.97B |
| #10 | Paris | France | $9.76B |
Singapore and Macau represented East Asia, and New York was the sole city from the Americas on the list.
It's worth noting that this list differs somewhat from overall tourism spending, which would include domestic travel spending as well. Large countries like the United States and China fare better in that ranking.
City Spotlight: Destinations Favored by Big Spenders
When you think of luxury travel, you think of five-star hotels, Michelin-star restaurants, luxury retail outlets, and many other premium experiences. And these cities offered their international travelers just that.
#1. Dubai
From the Burj Khalifa, currently the world's tallest building, to the desert excursions and yacht cruises, Dubai offers extravagant experiences for international visitors. The city's reputation for tax-free, high-end shopping and its commitment to providing a luxurious experience has made it a top travel destination for luxury shoppers from around the world.
Location is another factor in the city's success. Dubai sits at the natural crossroads between Europe, Asia, Africa, and the Middle East, and is home to one of the world's busiest, well-connected airports.
International travelers spent close to $30 billion in the city in 2022.
#3. London
London has long been a preferred location for the ultra-wealthy, and as a result, the city has an abundance of amenities for well-heeled travelers. For one, London is home to more five star hotels than any other city. As well, London offers ultra-wealthy travelers access to a wide range of high-end designer retailers, as well as world-famous museums, galleries, and landmarks.
Of course, the UK's largest city also sees a high overall volume of tourists overall, which adds to the $16 billion global visitors spent in the city in 2022.
#4. Macau
Known as the Las Vegas of Asia, Macau's gambling hub has been a magnet for international tourists for years. However, as the city began re-imagining its tourism strategies post-pandemic, it has grown stronger as an international tourist destination.
Outside tourists brought in $15.6 billion in 2022, and that number is only expected to multiply further over the next decade. This growth is being fueled by China and Hong Kong, which account for the lion's share of visits.
Note: Although Macau is now a part of China, it remains a Special Administrative Region under the "One Country, Two Systems" principle.
Transforming Travel Trends
The global travel industry continues to recover from the pandemic, which is good news for the many nations that economically rely on tourism.
As travel restrictions were lifted, many tourists flocked to remote destinations that were less traveled. However, this WTTC research is proof that the world's iconic cities are making their way back onto tourist itineraries once again.
The post Ranked: Top 10 Cities Where International Travelers Spend the Most appeared first on Visual Capitalist.
Source Link