2023-05-19 08:39:00
www.techspot.com

What just happened? A major leak has seemingly revealed the specifications of AMD's Radeon RX 7600 8GB graphics card. It was leaked earlier this month when an image of what looked like a retail box of a Sapphire Radeon RX 7600 Pulse was posted online. A label on the side of the packaging revealed some of its supposed specs, and the latest incident now seems to have confirmed some of those details.
The new leak comes courtesy of VideoCardz, which published a GPU-Z screenshot that seems to show some of the critical details about a card listed as the 'Navi 33 XL GPU.' The exact card name is absent as the software is probably yet to officially add support for the upcoming card, but it was still able to detect most of the relevant specs.
As per the new leak, the Radeon RX 7600 will feature the Navi 33 XL GPU with 8GB of GDDR6 memory with a 128-bit bus interface. It also shows a maximum bandwidth of 288 GB/s, a base GPU clock of 2250 MHz, and boosted frequency of up to 2655 MHz. The screenshot also suggests that the GPU will come with 32 Compute Units (CU) with 2048 Stream Processors, and have a PCIe 4.0 x8 interface like the RTX 4060.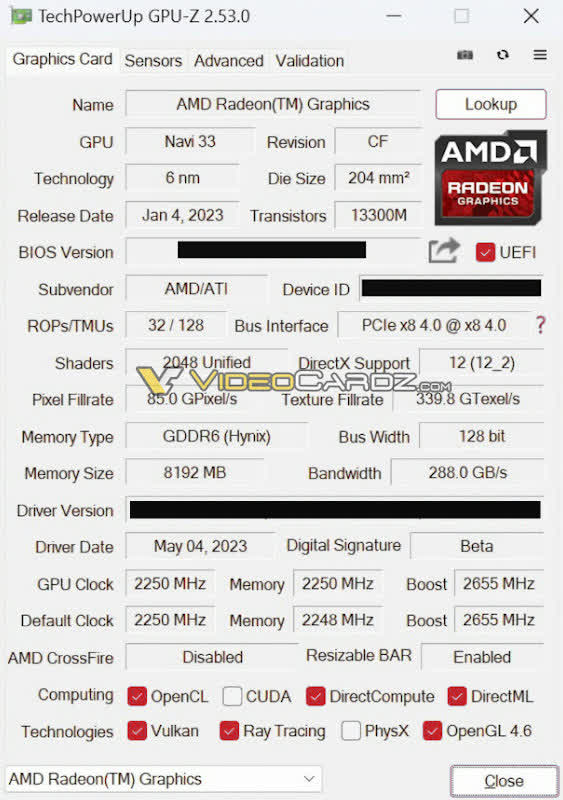 The report also adds that according to leaked information, the RX 7600 will come with a peak GPU clock of up to 2.85GHz. It also claims that the leaked card uses the XL variant of the GPU, meaning an RX 7600 XT could be in the works with the Navi 33 XT GPU.
The leak comes on the heels of Nvidia announcing its RTX 4060 GPU lineup earlier this week. It includes three different SKUs, including the vanilla RTX 4060 for $299, the 4060 Ti 8GB for $399, and the 4060 Ti 16GB for $499. The RX 7600 leak is significant as it is expected to compete with the base RTX 4060, and gives us some insight into what to expect from it in terms of raw performance.
Either way, according to earlier leaks, the AMD Radeon RX 7600 is expected to be launched on May 25, so we may not have to wait too long to get our hands on it. Rumors suggest that it could be priced at around $249 in the US and €349 in Europe, but neither of those prices has been confirmed yet.
Source Link