2023-05-31 07:15:00
www.techspot.com

When purchasing an HDR monitor, the usual caveats apply when researching the range of HDR options available. Exercise caution with products that advertise HDR without actually offering any genuine HDR capabilities. These monitors (often advertised as DisplayHDR 400) simply aren't worth buying or considering in any regard.
However, if you're interested in a true HDR product, there are some excellent options on the market these days. While they can be quite expensive, the experience they offer is outstanding. To determine which HDR monitor is best for you, we'd recommend first deciding between a regular 16:9 format or an ultrawide, then considering screen resolution and display technology.
If you're after a standard 16:9 monitor, the choice, in our opinion, is between three options: the Asus ROG Swift PG27AQDM, the Samsung Odyssey Neo G7, and the LG C2 OLED TV in a 42-inch size. Each offers something different, and the right one for you may come down to factors such as size, resolution, and format.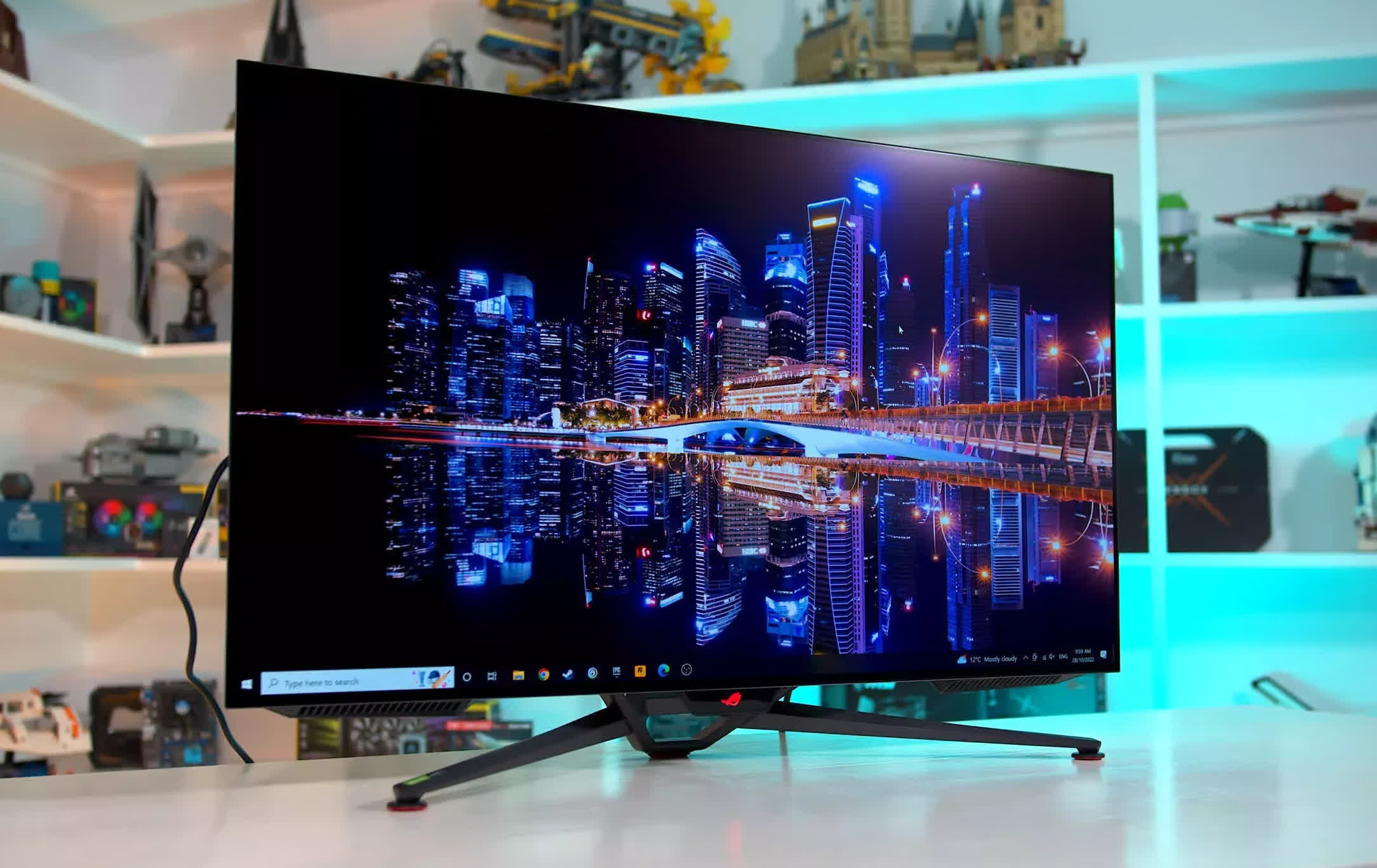 The top pick among these, in our opinion, is the Asus ROG Swift PG27AQDM. As we discussed earlier, this is a 27-inch 1440p 240Hz OLED with excellent motion clarity and elite HDR performance. It's a highly versatile product that's well suited to both competitive multiplayer gaming and visually stunning single-player experiences, thanks to its potent combination of features and performance. It's bright, particularly for a WOLED panel, vibrant, fast, and responsive. It's difficult to go wrong with this choice, although the drawbacks for OLED like burn-in and subpixel layout might limit this monitor's usability for desktop work.
If you're interested in a larger or higher resolution display, the next step up is the Samsung Odyssey Neo G7, which offers a 32-inch 4K 165Hz VA LCD experience with 1196 full array local dimming zones. This is an excellent monitor that doesn't suffer from some of the drawbacks of the Asus OLED, such as burn-in or subpixel layout, making it more suited to desktop applications and productivity work.
This is somewhat limited by the curved nature of this monitor, but it's also a larger screen with a 4K resolution, and there are benefits for gaming as well. The mini-LED backlight provides great HDR performance, not quite as good as the OLED but certainly very impressive, and Samsung has finely tuned this VA panel for motion performance. We'd choose this over the 240Hz version, the Neo G8, as that monitor has a few dealbreaker flaws. Overall, the Neo G7 is an excellent option if you want a larger LCD.
If neither of these two sounds like the perfect choice, you can go even larger with the LG C2 OLED in a 42-inch size, currently available for the low price of just $900. While we believe this is a great screen, its lower 120Hz refresh rate and weaker brightness compared to the PG27AQDM make it not quite as optimal for gaming. However, it is much larger and boasts a higher 4K resolution, along with full smart TV functionality, as it is indeed a TV. Thus, this could be a great choice depending on your needs.
Source Link