Devin McElheran
2023-08-05 09:33:36
fossbytes.com
As Beelink continues to pump out mini PCs, one stands out as an incredible opportunity for those that run IT home labs. The EQ 12 comes out swinging with a combined connectivity bandwidth of 45Gb/s at a price that'll make you reconsider your Raspberry Pi cluster.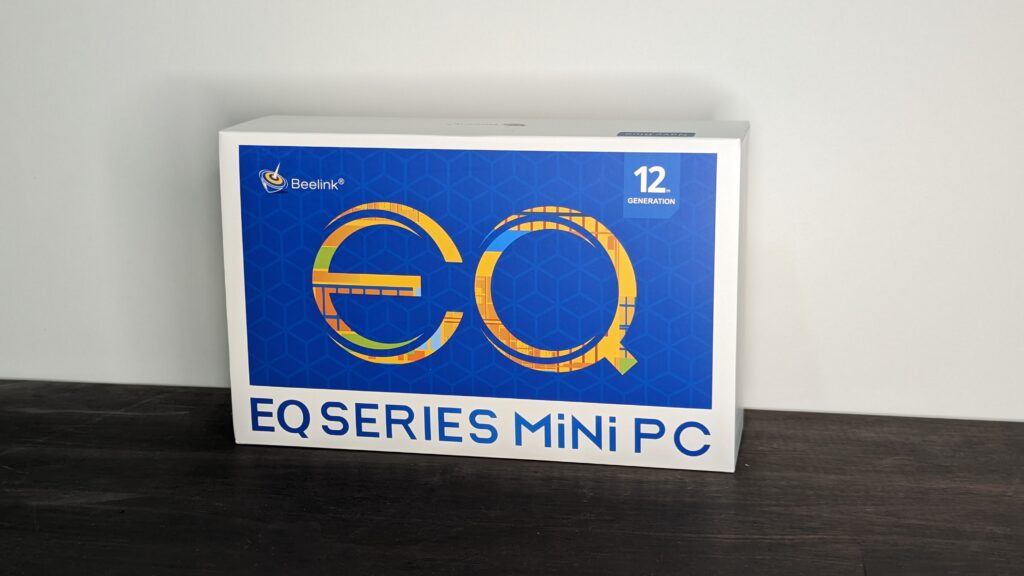 Many companies have been loading the market with NUC-alike mini PCs over the last few years. There are some that are incredible and many that will leave you scratching your head. Beelink's EQ 12 is definitely a headscratcher. Nonetheless, that doesn't mean it's without its place. Even if its best fit is nowhere near what Beelink intended.
Beelink EQ 12 Specifications
CPU
Intel Celeron N100 (Intel 7 Lithography)
4C/4T 0.8GHz Base / 3.4GHz Turbo
25W TDP
Memory
8GB/16GB DDR5 4,800MT/s
Graphics
Intel UHD Graphics
Storage
500GB M.2 NVMe SSD
Network Connectivity
Wifi 6 (AX), Gigabit Ethernet, Bluetooth 5.2
Front IO
2x USB Type-A 3.2 10Gb/s
3.5mm Audio Jack
Rear IO
1x USB Type-A 3.2 10Gb/s
1x USB Type-C 3.2 10Gb/s
2x HDMI
2x 2.5Gb Ethernet
DC Power Barrel Jack
Internal IO
M.2 NVMe (1x PCIe Lane) / M.2 SATA
2.5″ SATA Drive Bay
Dimensions
124mm x 113mm x 39mm (546ml)
Operating System
Windows 11 Pro
Beelink EQ 12 Specifications
Despite the fact that the Intel Celeron N100 is the linchpin of this mini PC, it has some wild connectivity, even compared to some of the higher-end Beelink models. While it would be misleading to pretend that it's possible to fully utilize all of that bandwidth simultaneously, it's still a very impressive battery of connectivity. The N100 has nine PCIe 3.0 lanes. PCIe 3.0 is capable of 4Gb/s per lane, for a total of 36Gb/s on the N100. That's less than the 45Gb/s you get from tallying the four USB 3.2 ports and two 2.5Gb ethernet ports. Not to mention the fact that a PCIe lane is dedicated to the NVMe SSD, and probably another to the wireless card, leaving only 28Gb/s. So what gives?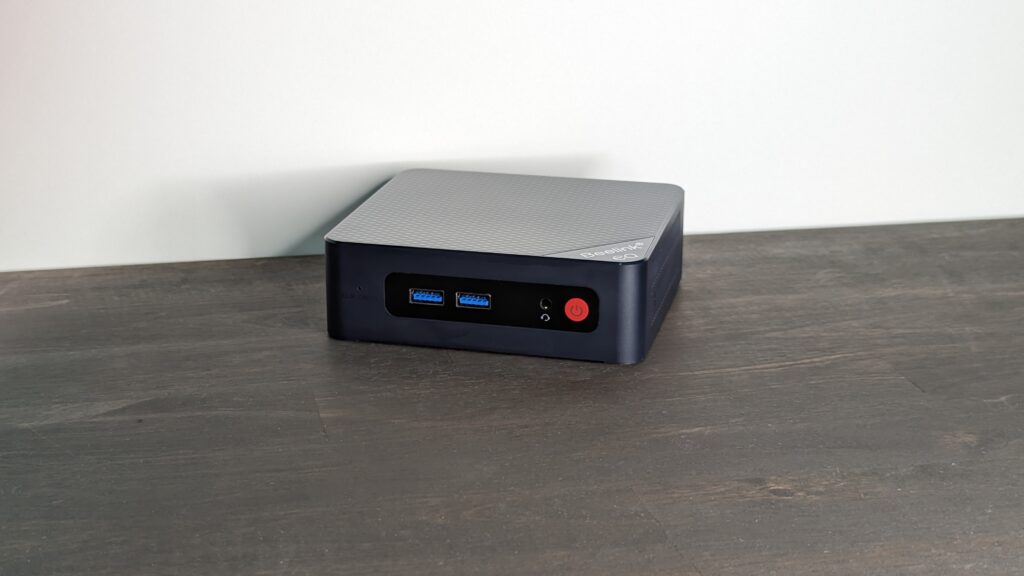 To be fair, the N100 probably could handle all of its PCIe lanes being saturated anyway. In the case of the N100, and by extension the EQ 12, it's not that you would want to maximize your bandwidth utilization. Rather, you would want to have that low-latency peripheral connectivity available to share between devices. With that in mind, it makes complete sense to allocate those PCIe lanes toward USB 3.2. Consequently, downstream devices can share the bandwidth and devices can leverage the high speed when needed without needing dedicated PCIe lanes.
To that end, the EQ 12 is a remarkable mini PC in its price bracket despite its humble CPU. But who needs all that throughput that's only going to be running an Intel Celeron, and a mobile one at that? I honestly don't know. It reminds me of poorly selected and/or barely aware computer salespeople that would upsell with the go-to phrase "but this one has more gigabytes." The response to that was almost always "giga-what?" People in the market for a computer that can suffice with the Intel Celeron platform surely don't need 45Gb/s of peripheral connectivity. That is to say, this really seems to me like another "this one has more gigabytes" (or gigabits in this case) kind of situation.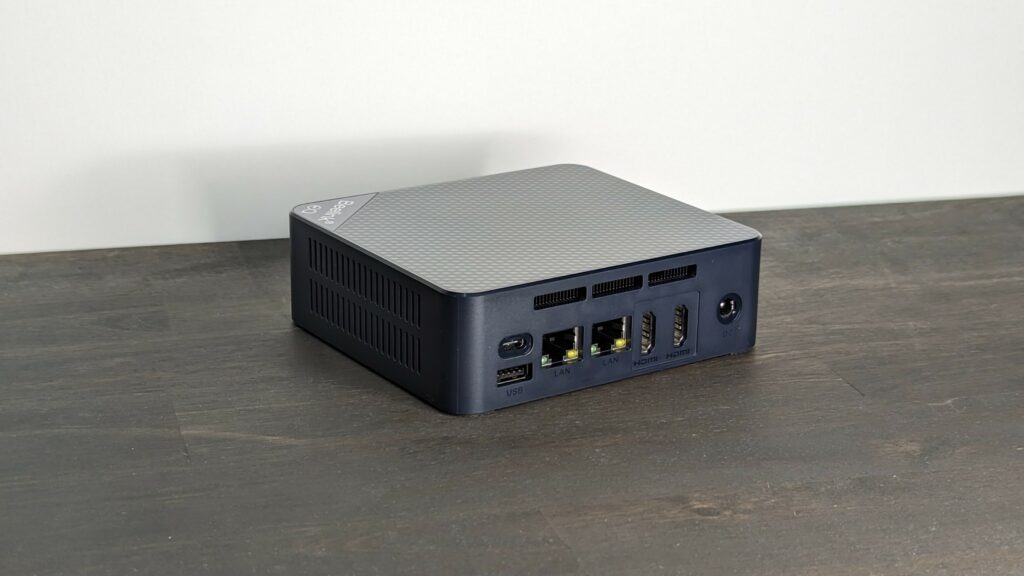 That doesn't have to be a bad thing, though. As technology enthusiasts, we always welcome more mega-whos and giga-whats. I'm unable to tell you what market segment Beelink intended the EQ 12 for. But a certain niche echoes through all my Beelink reviews and I think the EQ 12 reverberates that echo a little louder than most of my others.
The EQ 12's 2.5Gb ethernet is welcome on its own, but then, there are two. To me, this screams home (IT) lab or DIY router/security gateway material. It could even handle the most luxurious of home internet connections with the dual 2.5Gb ethernet. All in a package that's smaller than most home routers.
In the Box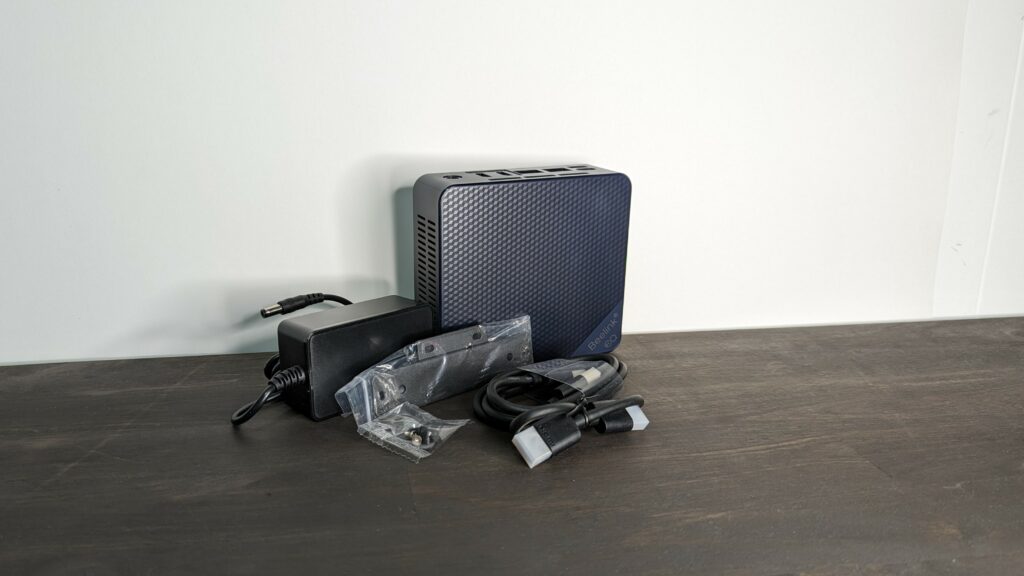 As expected from Beelink, the EQ 12 comes with a few simple, but appreciated, accessories.
Short HDMI Cable
VESA Mounting Bracket with Hardware
Longer HDMI Cable
Power Adapter
The VESA mounting bracket is an excellent way to mount the EQ 12 to the back of a monitor. The bracket is very thin, so it shouldn't interfere with most monitor arms. There is also a short HDMI cable that should be long enough to connect to a monitor that the EQ 12 is mounted to, and a longer HDMI cable to connect to a second monitor. The mounting system and appropriately sized cables make for a very tidy setup.
Beelink EQ 12 Performance
You probably don't think of performance when you think of Intel's Celeron line, and few would argue with you for holding that notion. But the reality of the matter is that Celeron CPUs are actually fairly commonplace in network equipment because of their relatively flexible thermal and power requirements. I have a WatchGuard XTM 5 Series router, which has seven gigabit-speed ports, that shipped with an Intel Celeron E3400. The E3400 is only a dual-core, it uses DDR2 memory, and was released in 2010. But it can handle seven simultaneous gigabit connections. With this in mind, it's easy to see just how much a low-cost Celeron can do if leveraged the right way.
To be clear, the Intel Celeron N100 definitely won't perform anywhere near a Core-i3 or better. But as I've shown, that doesn't mean that it's without its place. I have a tendency to avoid CPU and GPU benchmarking because there are many that are much more thorough than I am. I prefer to focus on the qualitative aspects of products. While that does sometimes include some benchmarks, and this review of the EQ 12 will follow suit, I thought it important to set expectations.
Interestingly, the NVMe SSD doesn't report any information about the vendor. Some searching around online leads me to believe that it might be the TeamGroup MP33, but I wasn't able to find anything conclusive.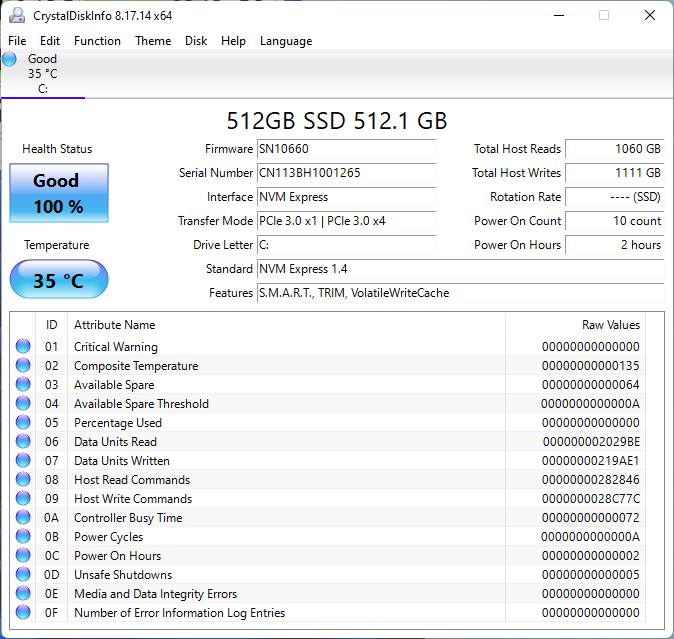 This unbranded SSD piqued my interest, so I just had to benchmark it and see what was going on. It appears to be maxing out the single PCIe lane that it's been configured with.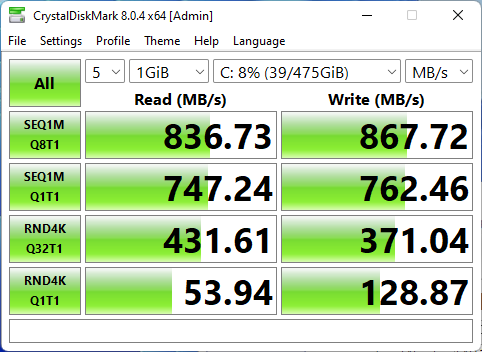 The performance, while not comparable to recent PCIe 4.0 SSDs, is actually pretty solid. While the single PCIe 3.0 lane nerfs the sequential throughput, the random 4K reads and writes are on part with a lot of mid-market brand-name SSDs. Furthermore, because most operating system and application operations take place on the order of kilobytes rather than megabytes, the random 4K speeds are actually what make a computer feel faster. Comparatively, hard drive random 4K speeds are typically under 2MB/s.
Conclusion
The Beelink EQ 12 certainly isn't for everyone. I think it would be an excellent choice for light home or office use. The Intel Celeron N100 is really the limiting factor. Despite this, the abundance of connectivity and peripheral bandwidth give it outstanding potential for home labs.
Overall, I think Beelink's EQ 12 is an unexpectedly virtuous budget PC, even if for even less expected reasons.
Source Link