Devin McElheran
2023-08-05 09:36:07
fossbytes.com
With serial launches of great products, Ugreen is starting to become a recognizable brand for quality technology accessories. Having covered some Ugreen products in the past, it's not difficult to understand why Ugreen's products are really catching on in popularity. I would have found myself remiss to pass on reviewing Ugreen's 9-in-1 Docking Station when I was offered.
I reviewed Ugreen's 13-in-1 USB C Triple Display Docking Station a while back as well as their Nexode GaN chargers sometime before that. They're all excellent products in my opinion. So, let's see how their 9-on-1 docking station compares.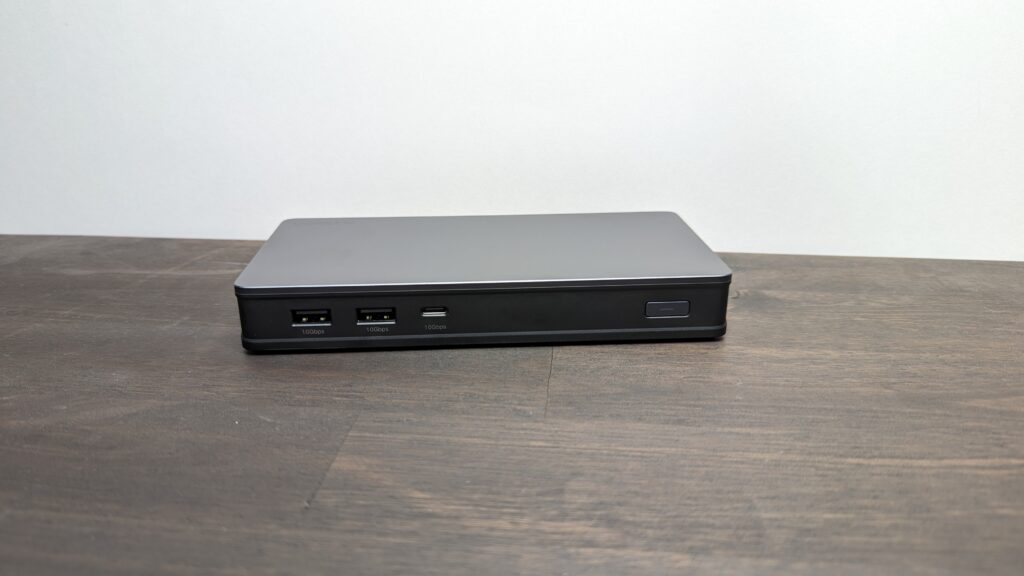 As the name suggests, the 9-in-1 docking station doesn't have as much going on as the 13-in-1. But it does come in at a lower price point. So, if you're interested in either, be sure to compare the pricing through your seller of choice.
Ugreen 9-in-1 Docking Station Specifications
The Ugreen 9-in-1 docking station doesn't have a ton of ports, but the connectivity it does have is pretty serious.
Front
2x USB 3.2 10Gbs Type-A
1x USB 3.2 10Gbs Type-C
The dock only supports two displays, meaning you can only use two of the four display outputs. This makes the docking station more flexible but also makes the 9-in-1 name a little bit of a stretch. In any case, the flexibility is always welcome.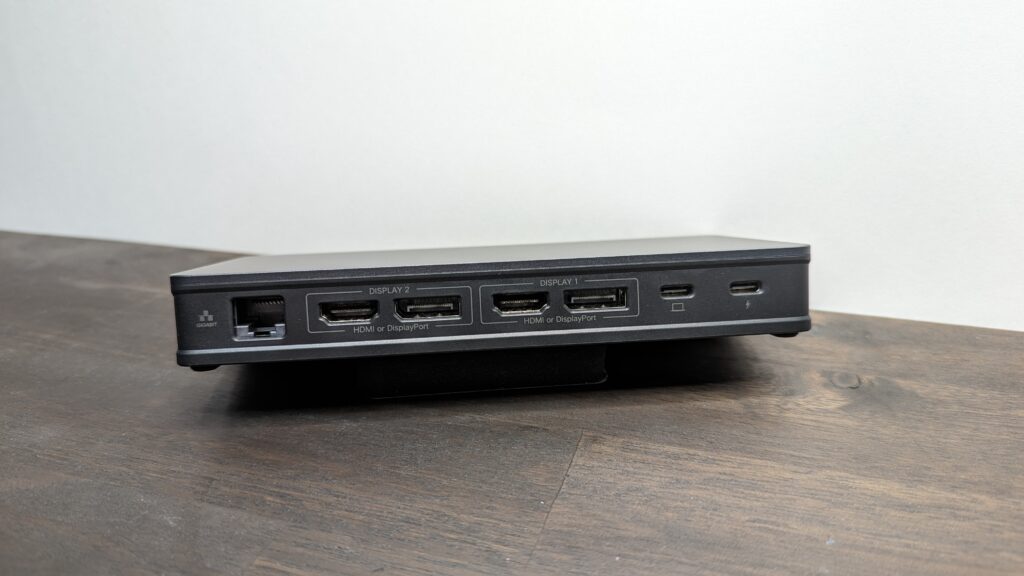 Surprisingly, all USB connectivity is 10Gbs. This is very welcome given that there are only three USB ports available for peripheral devices.
I would have liked to have seen faster ethernet on the docking station. 2.5-, 5-, and 10-gigabit ethernet are not prohibitively expensive like they used to be. They're actually quite commoditized now with 2.5Gb ethernet controllers costing less than 10 USD. So, the only thing enabling network equipment manufacturers to charge absurd amounts of money for even unmanaged 2.5Gb switches is the fact that greater-than-gigabit ethernet connectivity in consumer-grade goods is still a rarity. Once the prevalence of higher-speed ethernet adapters increases, network equipment manufacturers will need to keep up with the trends.
Ugreen 9-in-1 Docking Station First Impressions
That packaging features a fairly plain graphic print and is nothing flashy. The simplicity continues inward as there is little to unbox. The docking station is protected by a double-walled box. The efficient and material waste-conscious packaging is something I appreciate.
In the box, there is the docking station, a 100W-capable USB Type-C to USB Type-C cable, and the user manual.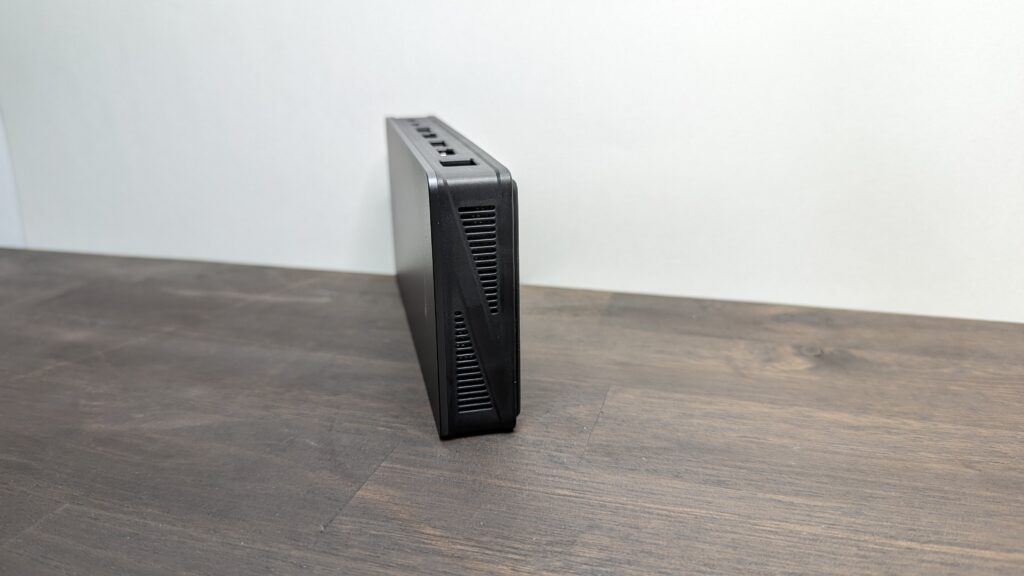 The docking station is slim and flat, which is in great contrast to the Ugreen 13-in-1 docking station that stands tall. Further distinguishing these two docking stations, and highlighting their respective statures, is that, unlike the 13-in-1 and its tendency to tip over, the 9-in-1 sits low and stable.
The exterior is a somewhat-matte finish aluminum with a sturdy and weighty feeling that gives an impression of quality. The design language is, overall, amenable to professional settings. I believe that the triangular-shaped air vents on the sides are a bit too gaudy for business appeal, but the low profile of the docking station minimizes this.
Like Ugreens 13-in-1 docking station, Ugreen does not provide a power supply with the 9-in-1. While this is much more understandable at the price point of the 9-in-1, it would be nice if it could also accept a DC barrel jack input for power. After all, a docking station, as the name suggests, is intended to be stationary, so there isn't a need for a smart USB PD power supply when a cheaper standard 12v or 24v DC barrel jack input could be used instead.
Using Ugreen's 9-in-1 Docking Station
I had actually been daily driving Ugreen's 13-in-1 docking station since receiving it for review up until I received the 9-in-1. It had been completely trouble-free and was an upgrade from the white-label USB Type-C hub with power passthrough I had been using before that.
After I unboxed the Ugreen 9-in-1 docking station I swapped out the 13-in-1. It worked immediately. It would appear that the DisplayLink drivers required for the 9-in-1 and 13-in-1 are the same. But even when I initially plugged in my Windows 11 Surface Pro 9, it only took about thirty seconds before everything started working properly. With that said, though, your mileage may vary depending on your operating system and other factors. In any case, you can still install the drivers from the read-only storage volume present when the dock is connected.
My first and only complaint regarding the docking station is an echo of my past gripes with connectivity in general. But, rather than take my word for it, I'll let an excerpt of Ugreen's own description from the 9-in-1 docking station's Amazon.com listing make the point for me.
9-in-1 Expansion: For simplified to meet most expansion needs, the 9-in-1 USB C Dock is equipped with 2x HDMI 4K, 2xDP 4K, 1x PD 3.0 100w, 2x USB A 3.2 (10Gbps), 1x USB C 3.2(10Gbps), 1x Gigabit Ethernet. It can meet almost all the needs of your daily work.
The last sentence of the excerpt, which immediately follows the connectivity features, plainly says that it is almost sufficient for daily work. Now, I would argue that this isn't quite the case. The connectivity is sufficient for most people's daily work, but just barely. During my review, I found myself searching for a USB hub just to use a USB stick. The only other USB devices I had plugged in were my mouse and keyboard. In other worse, it will be enough until you find yourself on the other side of that "almost." It's my opinion that a couple more USB Type-A ports would have added appreciable value.
One thing I noted with the 9-in-1 docking station is that Windows would often try to use it, as the default audio input device. This led to several scrambles at the beginning of Microsoft Teams meetings. Because none of the docking station's documentation indicates the presence of a microphone among the features, I think it's safe to attribute this behaviour to either the DisplayLink driver or Windows.
Final Thoughts
Ugreen's 9-in-1 docking station was a hassle-free experience. The design and aesthetic are suitable for both home and office use. Aside from the adventures of searching through my cable drawers for a USB hub, I enjoyed the review process of the Ugreen 9-in-1 docking station because it was almost like it wasn't even there.
The Ugreen 9-in-1 docking station is certainly a good product. Despite that, I can't blatantly recommend it given the pros and cons will weigh out subjectively from person to person and use case to use case. So hopefully, this review will help you determine whether it's the right product for you.
Source Link