2023-09-19 05:56:00
cryptonews.com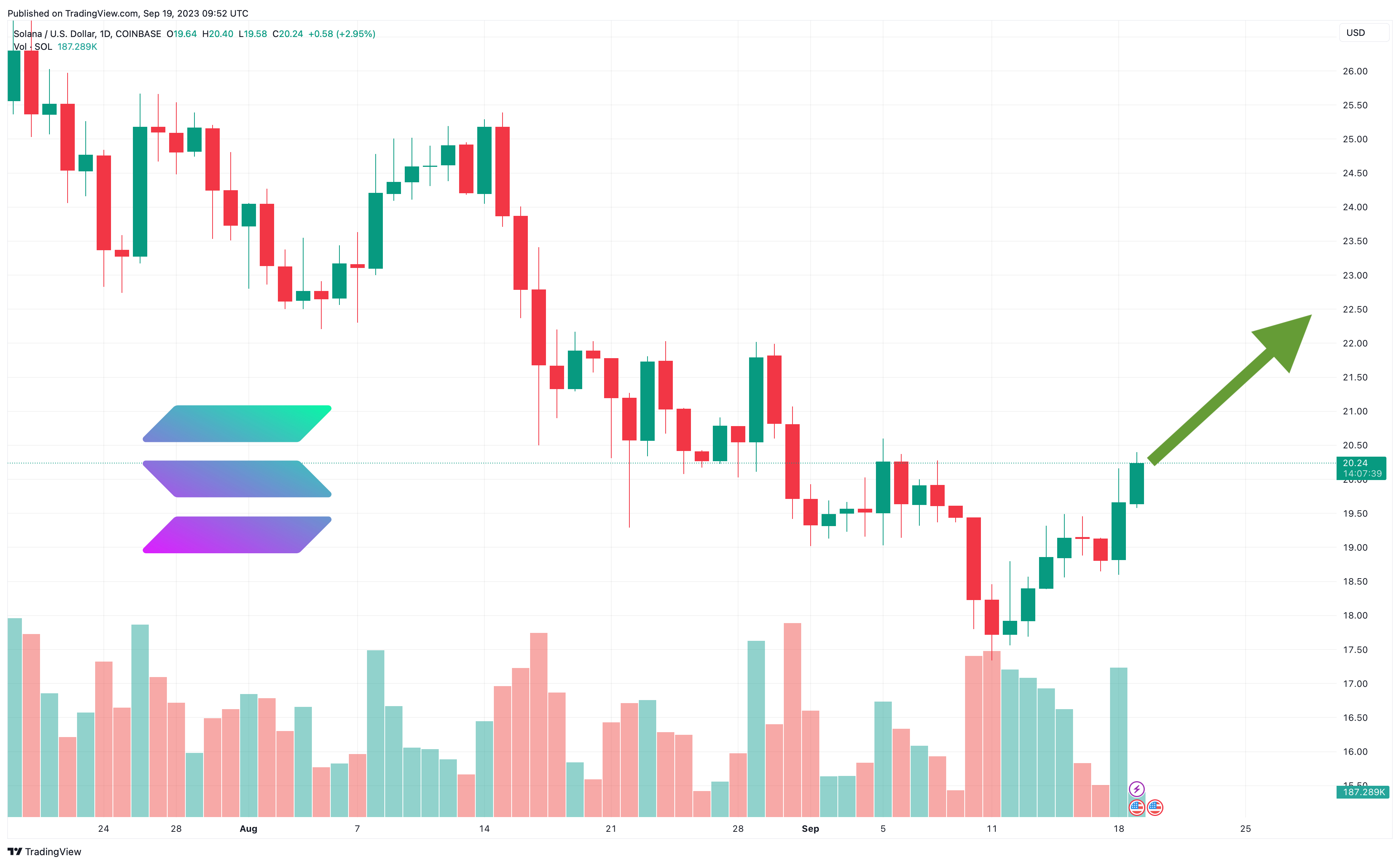 The Solana price has jumped by 5% in the past 24 hours, with its surge to $20.30 coming as the wider cryptocurrency market rises by 1.4%.
SOL has now gained by 13% in the past week, with its recovery in the past few days coming as a correction to fears regarding the possibility of a major selloff of FTX's Solana holdings.
But with these holdings largely locked up for several years, and with SOL still down by 7% in the past month, the altcoin is likely to recover even further in the coming days and weeks.
Solana Price Prediction as SOL Becomes Best Performing Coin of the Day – What's Going On?
Solana's indicators are in a prime position for a rebound, and that's just what the altcoin seems to be doing today.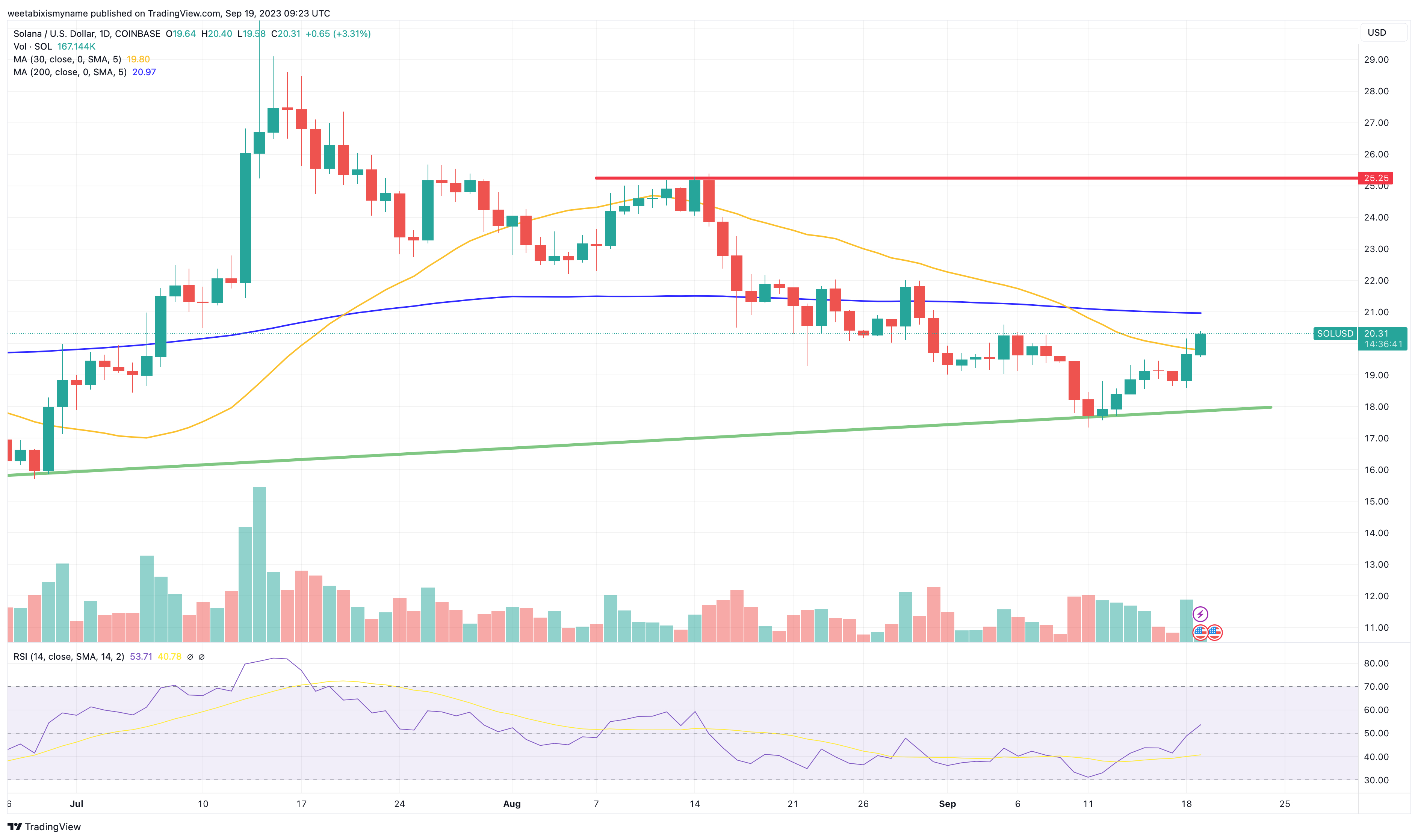 Its relative strength index (purple) has bounced up from 30 a week ago to just over 50 today, signalling rising momentum and increased buying pressure, which can last until the RSI reaches 80 or 90.
At the same time, SOL's 30-day moving average (yellow) appears to have ceased its decline and to have flattened out, meaning that it could be about to begin a climb towards the coin's 200-day average (blue), something which would bring further price rises with it.
It's also encouraging to note that the SOL's support level (green) has risen substantially in the past few days, providing the altcoin with a stronger base from which to launch further charges.
Based on these indicators alone, it would seem that SOL is due further improvements, yet these have also been indicated by just how oversold the coin has been in recent weeks.
Indeed, the past couple of weeks brought fears that FTX may begin shedding its large holdings of SOL and Solana-based tokens, with the defunct exchange sitting on around $685 million in such tokens overall.
However, many commentators and analysts have rightly pointed out that the vast bulk of such holdings are locked, and won't be released until at least 2025.
As such, it seems that today's rally is due largely to investors realising that SOL had been oversold in the past few days, and that it could therefore be bought at a relative discount.
And more generally, SOL remains a fundamentally strong coin, with Solana continuing to grow as a network.
Its growth was highlighted a few weeks ago, when Visa announced that it would be expanding its USDC pilot to include the Solana blockchain, which the card and payments giant described as a "high performance blockchain network."
This underscores just how far Solana has come in the past year or so, and with the blockchain marking several months of continuous uptime, it's likely to continue expanding.
This means that SOL could reach $22 in the next few weeks, before potentially ending the year at around $26.
Presale Tokens Could Offer Higher Potential
Assuming that SOL's growth may be gradual, some traders may prefer to diversify into newer altcoins, especially those that are newly launched and haven't yet experienced an early discovery rally/surge.
In particular, presale tokens may be promising in this respect, since the best of these can rise strongly when listing on exchanges for the first time.
One good example of this is Bitcoin BSC (BTCBSC), a BNB Chain-based cryptocurrency that has raised over $3 million since opening its presale a few weeks ago.
Such a figure makes Bitcoin BSC one of the biggest presales of the year, with the token attracting investors by its offer of a stakeable version of Bitcoin.
Based on BNB Chain, BTCBSC's holders will be able to earn a passive income from the token, yet it also has Bitcoin's hard cap of 21 million tokens, making it a deflationary cryptocurrency that should rise gradually in price over time.
6.125 million of these tokens will be available during the presale, with the rest held in reserve for staking, making the token highly decentralized and open.
On top of this, the presale will make Bitcoin BSC available at $0.99 for its entire duration, meaning that investors will have the chance to make up for having missed out on Bitcoin itself first time around.
Newcomers can get involved in the sale by heading over to the official Bitcoin BSC website and connecting their wallets.
Once the sale is over, Bitcoin BSC will list on BNB Smart Chain DEX, with listings on other trading platforms also likely to help boost its price quickly.
Disclaimer: Crypto is a high-risk asset class. This article is provided for informational purposes and does not constitute investment advice. You could lose all of your capital.