2023-09-20 07:29:00
cryptonews.com

The Dogecoin price has risen as high as $0.063254 today, with the meme token now sitting on a 1% gain in the past week.
However, DOGE remains down by 3% in a fortnight and by 1.5% in the last 30 days, with the meme token down by 11.5% since the beginning of the year.
Holders would argue that this puts DOGE in a good position to rebound strongly though, with the coin still selling at a discount compared to fairly recent prices, and with its trading volume rising to $200 million today.
Dogecoin Price Prediction as $200 Million Sends DOGE into the Green –Time to Buy?
DOGE's indicators remain weak, yet the flipside of this is that it continues to be a good time to buy the meme token, which is overdue a big recovery rally.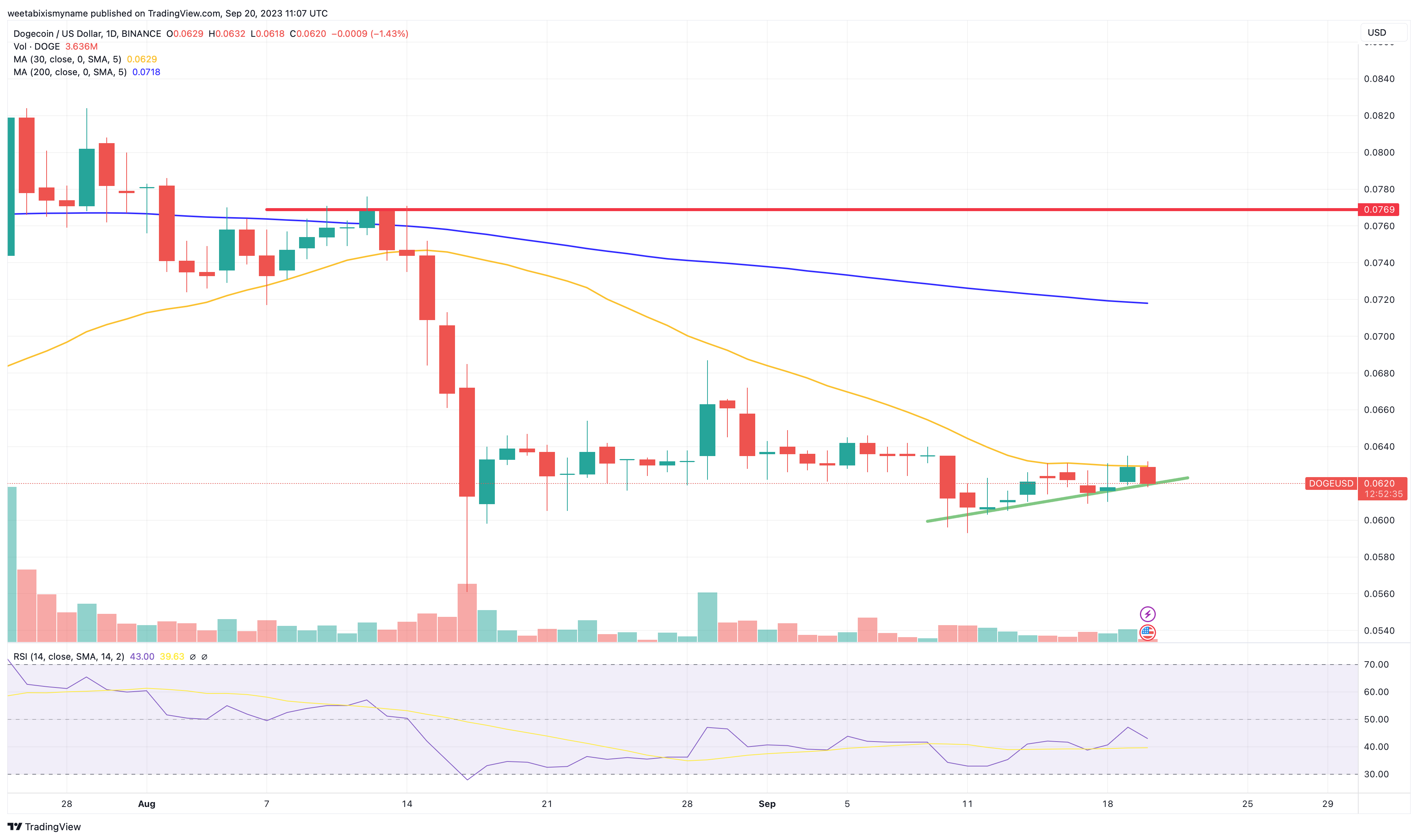 On the one hand, DOGE's relative strength index (purple) has risen close to 50, suggesting that the declines of the past few weeks are potentially on their way out.
On the other hand, the coin's 30-day moving average (yellow) remains far below its 200-day average (blue), which suggests continued overselling and weakness.
Still, if you belive that DOGE is a fundamentally strong cryptocurrency, then such weak indicators would mean that it has to recover in the not-too distant future.
This makes it a good time to buy the coin, which remains down by 91% compared to its all-time high of $0.731578, set back in May 2021.
DOGE is also down by 35% compared to its 2023 high of $0.960, meaning that it's not out of the question that it should near this level once again when market conditions become more favorable.
As for now, DOGE is currently suffering from the fact that the New York Department of Financial Services removed it from a greenlist of approved tokens.
This means that exchanges registered with the DFS cannot offer DOGE-related services to their NY-based customers, something which could weaken demand for the meme token going foward.
Still, DOGE may one day be rescued by Elon Musk and X (formerly Twitter), with the latter still pursuing plans to introduce payments on its platform.
Such payments may not necessarily cover crypto and DOGE, but if they do, there's little doubt that DOGE would rally big.
In the shorter term, improvements in market sentiment could be expected to lift DOGE back up to $0.70 in the next few weeks, with the coin potentially making it to $0.080 by the end of the year.
Alternatives For Higher Returns
Any traders disappointed with DOGE may be inclined to check out alternative alts, with presale tokens being particularly lucrative this year, in that the best such tokens often rally big when listing for the first time.
One of the most interesting presale coins in the market right now is Bitcoin BSC (BTCBSC), a BNB Chain-based cryptocurrency that has raised over $3.5 million.
What's impressive about this figure is that Bitcoin BSC has reached it in only a few weeks, with its sale opening as recently as the beginning of this month.
What has attracted investors to BTCBSC is its simple yet high-potential design, with the coin offering a stakeable version of Bitcoin.
This means that the altcoin comes with the same 21 million hard cap as the original Bitcoin, yet the difference is that holders can earn a passive income from the token simply by staking it.
Another attractive feature of Bitcoin BSC is that its sale makes it available at the very low price of $0.99, which is a level Bitcoin last had way back in 2011.
6.125 million BTCBSC is available through the presasle, with the remainder being held for staking.
Such tokenomics will likely make Bitcoin BSC more decentralized than Bitcoin and many other coins, which again is part of the reason why its sale has already done so well.
Participating in the sale requires investors simply to visit the official Bitcoin BSC website and connect their software wallets.
Bitcoin BSC is due to list on BNB Smart Chain DEX once the sale ends, with more exchanges likely to follow soon after, helping its price to rise considerably.
Disclaimer: Crypto is a high-risk asset class. This article is provided for informational purposes and does not constitute investment advice. You could lose all of your capital.