2023-09-22 10:33:00
cryptonews.com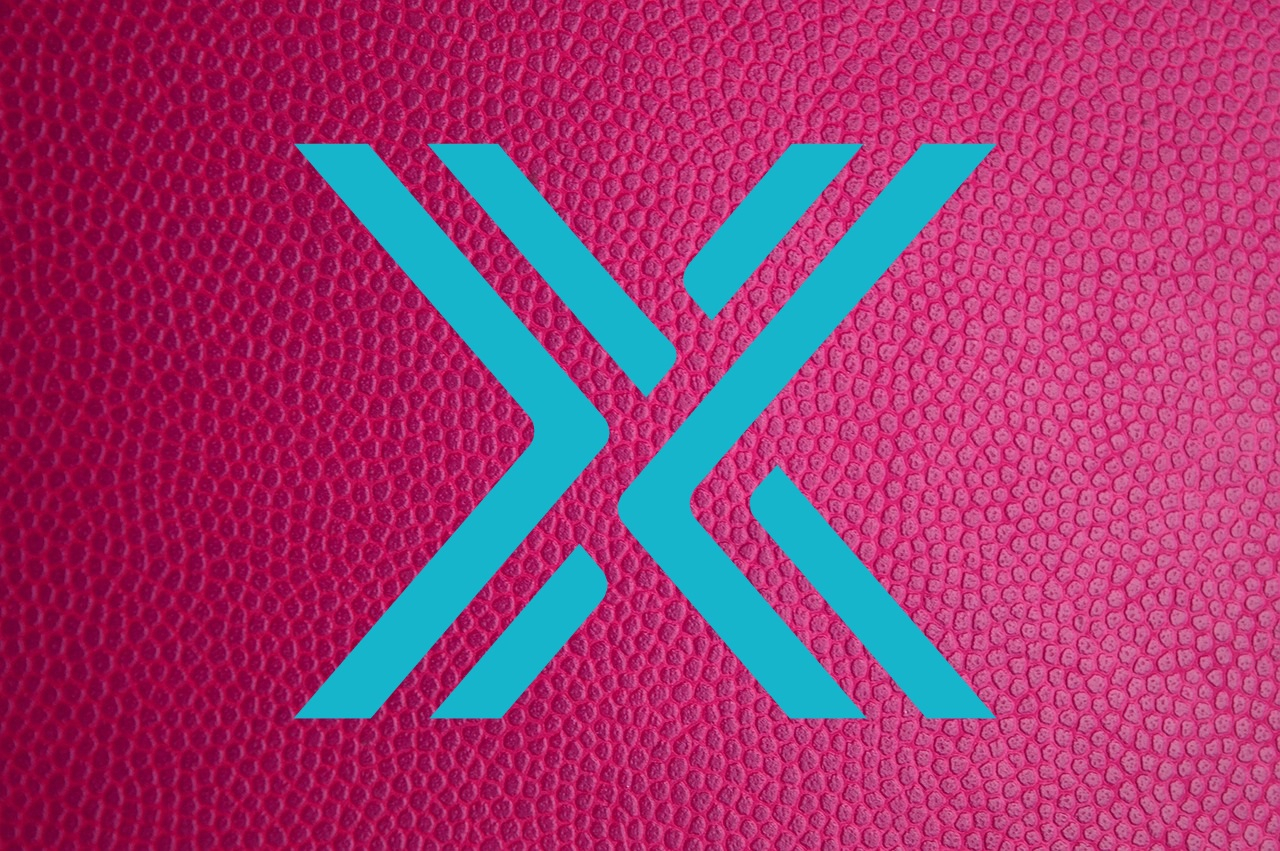 IMX has exploded +30% over-night in a sensational move driven by a massive influx of volume on South Korean crypto markets, the native token of the ImmutableX NFT platform is now poised to test resistance at the 200DMA – leaving some asking 'is it Too Late to Buy ImmutableX'?
A tsunami of more than $617m in 24-hour trading volume on the Upbit and BW exchanges triggered a jaw-dropping +38.1% move as markets became invigorated by a critical reclamation of the 20DMA.

This was followed by a flurry of trailing capital on popular Western exchanges such as Binance, leaving IMX price high in the trading channel – and possibly vulnerable to a dump if fortunes change on South Korean exchanges over the weekend ahead. 
But it appears that crypto whales are unphased by the potential risk, with appetite remaining as major purchases begin to land on Etherscan such as the $512,722 transaction above.
IMX Price Analysis: Will ImmutableX Crack 200DMA or Face South Korean Dump?
In the midst of the upside swing, IMX is currently trading in minor localised retracement, at a market price of $0.64 (representing a 24-hour change of -5.19%).
The magnificent +34% candle yesterday came following a strengthening of IMX technical structure following 48-hours of consolidation above the 20DMA (stood at $0.54) – which had acted to supress upside price moves for 45-days since August 4.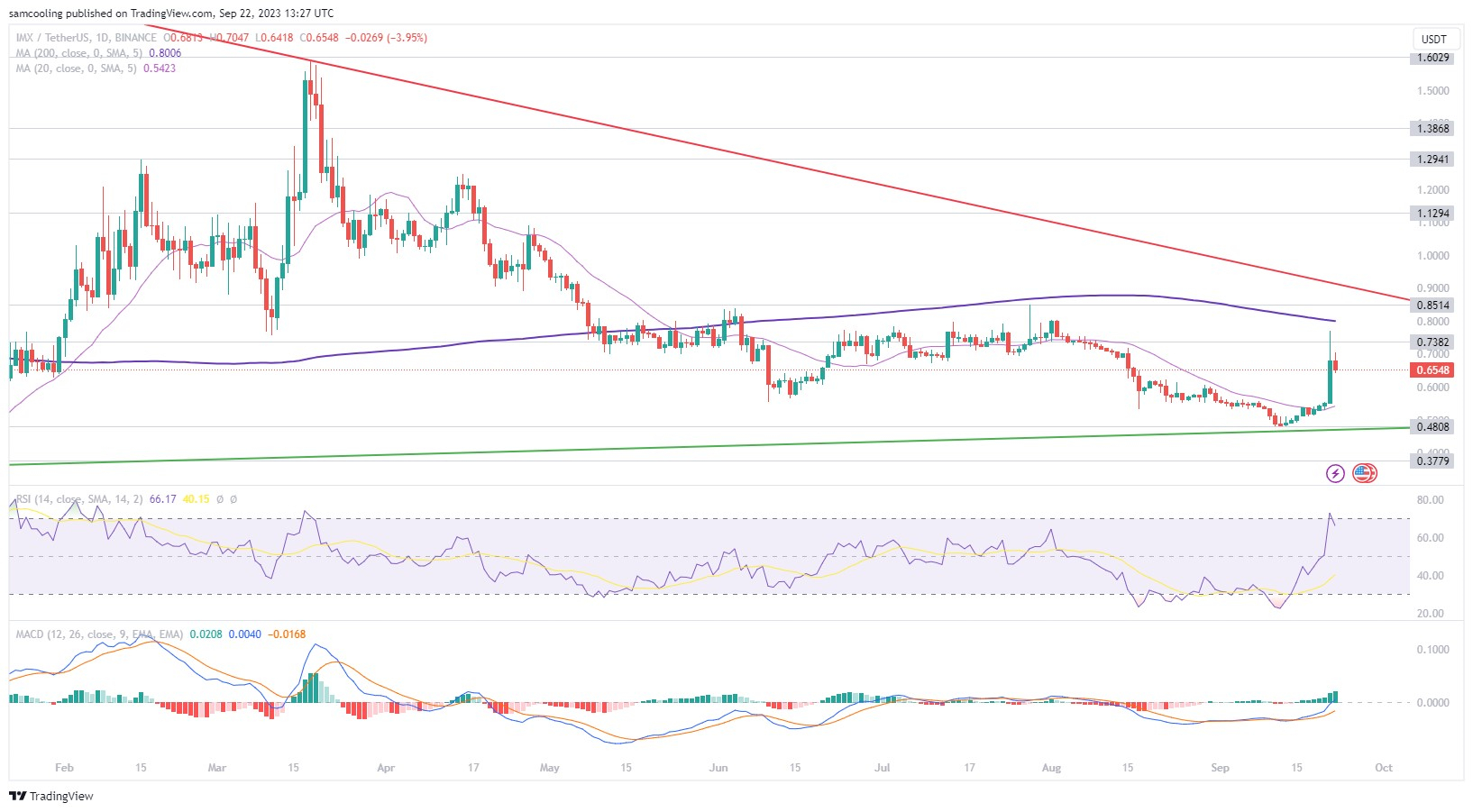 With the 20DMA now forming stable footing, all eyes turn to the 200DMA (stood at $0.80), which remains trading high above price action – a level untouched for 110 days since June 5.
As technical form fights for position amid localised retracement, it seems price could move lower on the short-time frame.
This is because of a severely over-heated RSI, which is displaying significant bearish divergence with an overbought signal at 64.22.
Yet, while the RSI demands retracement and consolidation, the MACD suggests bullish momentum remains – with a positive 0.0202 reading.
Overall, following the dramatic bounce above the 20DMA, IMX has strengthened in technical structure – poising price action for a run at the 200DMA following a brief period of localised retracement and consolidation.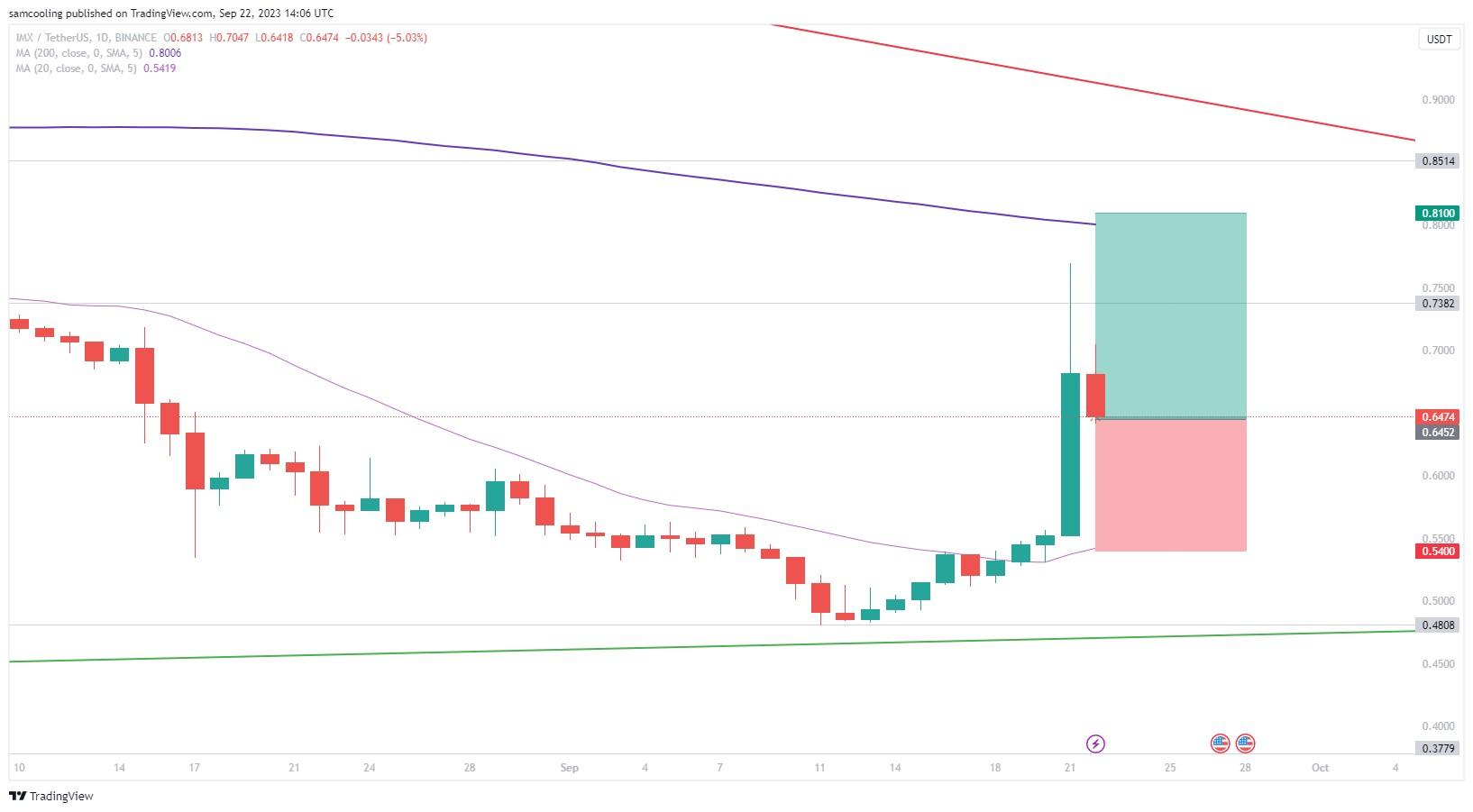 This leaves ImmutableX with an upside target at $0.81 (a potential +25.54%).
While to the downside, risk remains of a return to the 20DMA at $0.54 (a possible -16.3%).
IMX therefore has a risk: reward ratio of 1.57 – a good entry, with strong upside potential on the short-time frame, and certainly not too late to buy.
But while IMX bag-holders rejoice at the improved technical posture, on-chain interest is pivoting towards a new meme coin with a nostalgic twist.
Dive into Meme Kombat Arena: Betting Meets Blockchain

Meet Meme Kombat, a trailblazing initiative that has seamlessly blended the memetic love of nostalgic gaming, and GambleFi, into a decentralized Web3 platform.
So, what makes Meme Kombat tick, and why should potential investors keep a keen eye on this presale?
The essence of Meme Kombat lies in its captivating arena where characters aiming to tap into deeply tribal crypto communities lock horns.
Players have the liberty to place their bets on these animated battles, predicting the outcomes and possibly reaping attractive rewards.
With a sturdy promise of Season 1 showcasing 11 distinct meme characters, there's no shortage of action, and Season 2 is already on the horizon for December 2023.
The decentralized nature of the project, combined with the thrill of AI-driven battles, ensures that the outcomes are both transparent and unpredictable – every battle is a new experience, ensuring players stay engaged.
Trust in the Meme Kombat Infrastructure: Staking, Rewards, and More
The project isn't just about excitement; it's built on a foundation of trust – Meme Kombat's commitment to transparency is evident through initiatives like the impending security audit of their smart contract.
The findings of this audit will soon be public, a move that many projects shy away from.
The founder and project lead, Matt Whiteman, isn't an unknown entity in the crypto space.
His experience spanning two decades in process design, combined with his position as the COO of North Technologies, adds credibility to Meme Kombat.
When so many projects hide behind the veil of anonymity, Whiteman's open profile and the project's physical address in Amsterdam offer an extra layer of trustworthiness.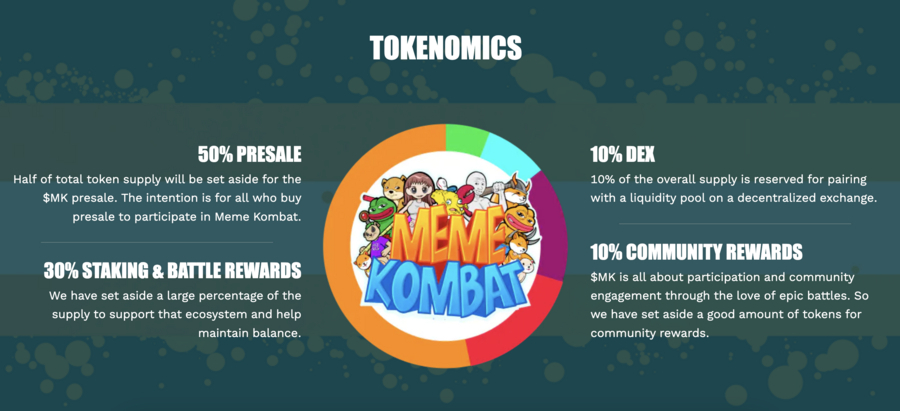 The tokenomics of Meme Kombat is also an appealing factor for potential investors – Stake the Meme Kombat ($MK) token, priced attractively at $1.667, and dive into a rewarding ecosystem.
With a generous APY of 112%, stakers not only benefit from passive income but can also use their staked tokens to place bets in the arena – this dual functionality – earning while gaming – sets Meme Kombat apart.
Intriguingly, engagement on the platform directly influences the income one can earn, so, the more you participate, the more you stand to gain.
With the GambleFi industry booming following coins like Rollbit, Meme Kombat seems poised to tap into this lucrative market with its innovative approach.
By merging memes, gaming, and blockchain, the platform is presenting something fresh to the crypto community.
For those looking to diversify their portfolio with a unique offering, Meme Kombat seems like an opportunity too good to miss – so, don't be left behind. Embrace the future of meme-based gaming and betting with Meme Kombat.
Disclaimer: Crypto is a high-risk asset class. This article is provided for informational purposes and does not constitute investment advice. You could lose all of your capital.