Hisan Abbas Kidwai
2023-11-15 06:54:40
fossbytes.com
iMessage has been one of Apple's biggest strongholds amongst its consumers since it essentially locks them into the Apple ecosystem, especially in the US. And despite Google's attempts to nudge Apple towards adopting RCS, it's unlikely that the company will give up this leverage anytime soon.
Now, in an effort to bridge this gap, Nothing has introduced its own "Nothing Chats" app, which allows Android users to communicate with iMessage users without all the troubles.
How is Nothing doing it?
As stated by CEO Carl Pei himself, the motivation behind this integration is to remove the fear of social stigma associated with the green chat bubbles on Android. To make this possible, Nothing collaborated with Sunbird, which already has a system in place to utilize a user's iCloud account as a token within an encrypted database linked to a Mac Mini located in the US or Europe.
The server acts as a relay for iMessage, enabling Nothing to support many of iMessage's distinctive features right from the start. These features include typing indicators, high-resolution media sharing, and group messaging, with read receipts and Tapback reactions slated for future updates. Additionally, the app also supports RCS, thus ensuring a seamless and secure messaging experience.
In a demo to the Washington Post and a video by MKBHD, Nothing Chats did work well for regular messages and photo sharing. However, some advanced iMessage features and group messaging capabilities were still incomplete and did not function as expected.
"We understand that the blue bubble vs. green bubble dilemma, especially in North America — although seemingly ridiculous — is real. Nothing Chats allows for freedom of communication between anyone regardless of their brand of smartphone – which is how it should be," said Carl Pei.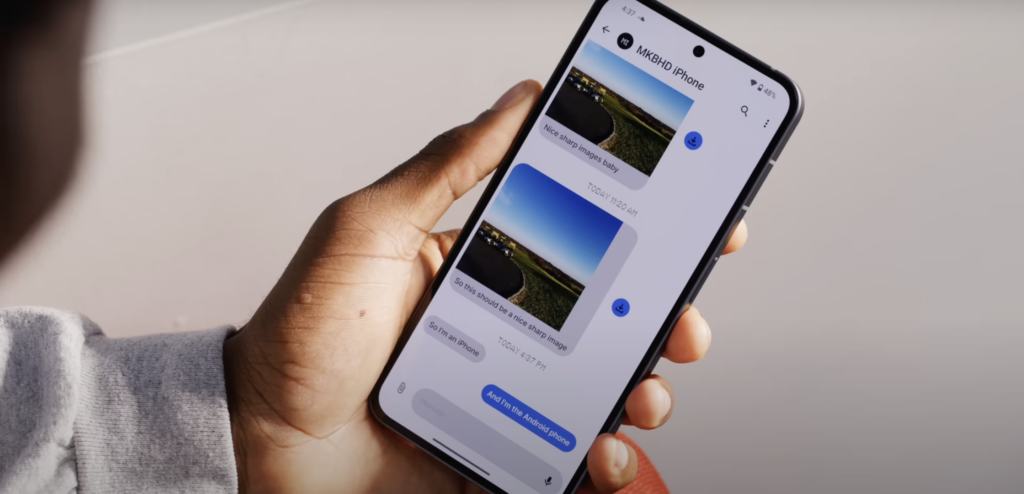 Major privacy concerns
While this development is a significant step forward, the integration has sparked some big privacy concerns, as users need to grant access to their iCloud accounts. And given the historical instances of companies not upholding these privacy practices, losing access to an iCloud account can be a daunting scenario.
Despite the concerns, Nothing highlights that all iMessage content sent through Chats is encrypted, with Sunbird unable to access messages or Apple ID. Moreover, the company has also committed to deleting all Apple ID credentials after two weeks of inactivity.
However, users interested in the app should note that it is currently exclusive to Nothing Phone 2, with rollout beginning from November 17th in the US, Canada, UK, and select European countries.
What will Apple do?
Earlier, such a workaround would have undoubtedly resulted in a lawsuit from Apple. But, Marques Brownlee suggests that Apple is already under multiple EU investigations, and suing Nothing could potentially bring the light to iMessage.
Additionally, given that the EU already has iMessage on its radar for being a "gatekeeping" service, this spotlight could trigger an action from authorities, such as forcing the company to adopt RCS.
Source Link