Devin McElheran
2023-09-18 01:35:04
fossbytes.com
The Ugreen name is becoming synonymous with computer accessories and, in particular, power adapters. I've covered Ugreen's Nexode products before, but a new Nexode monstrosity is making its debut with a massive 300W of power delivery.
Large power supplies have heatsinks, and often fans, that's a given. At least, it was a given. AC to DC conversion, also known as rectifying, is a fairly efficient process (see bridge rectifier). However, changing the voltage of DC power isn't always as efficient for much more complicated reasons, but the underlying problem is fundamentally resistance. Switch-mode power supplies, also known as digital power supplies, turn the power on and off at extremely high frequencies in a way that averages out the voltage (see duty cycle).
This is how almost all modern DC power supplies operate. It removes the need for a (relatively) expensive transformer to lower the voltage to meet the requirements. The cheap cost of materials can have a trade-off, though, and that's heat. Because a switch-mode power supply, depending on intended use, can involve a large amount of electrical current transitting semiconductors. An electrical transformer uses conductors, and a switch-mode power supply uses semiconductors. That difference in conductivity, or the increased resistance of the switch-mode power supply, in other words, results in more heat.
Back to the Nexode 300W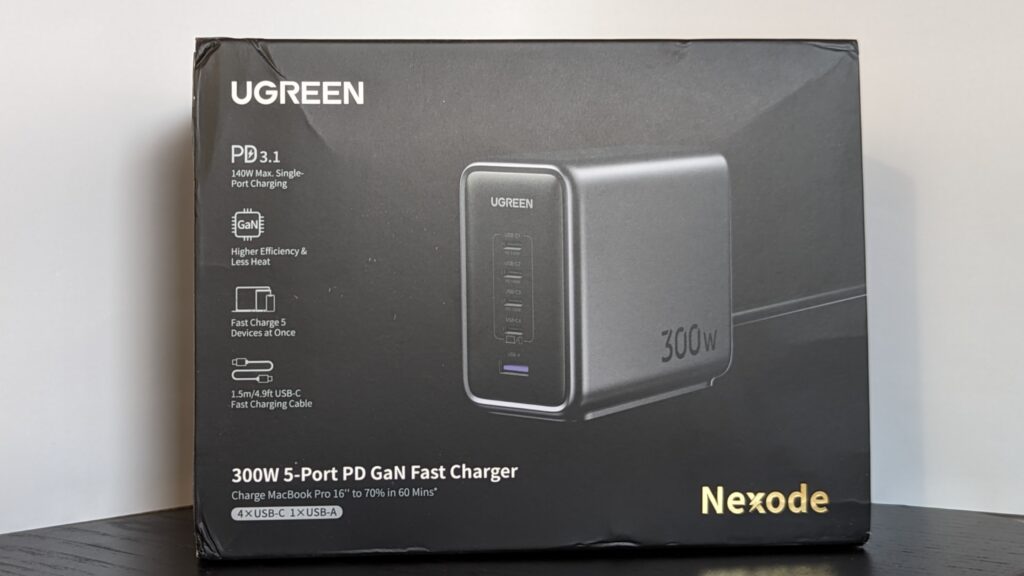 So, to put that background information in the background, the incredibly amazing thing about Ugreen's Nexode 300W is that it is a switch-mode power supply that has no cooling whatsoever and fits in one hand. This is largely due to its use of Gallium Nitride, or GaN, like the rest of the Nexode line of chargers, but also Ugreen's engineering and ingenuity. Gallium Nitride is a relatively new semiconductor that is poised to take over power electronics because of its low resistance, at least in contrast to silicon, despite being a semiconductor. This leads to less heat.
So, at this point, you're probably wondering what you would use a 300W USB power adapter for, and that's a really fair question. But to answer it, we'll have to take a look at the features of the Nexode 300W.
Nexode 300W Specifications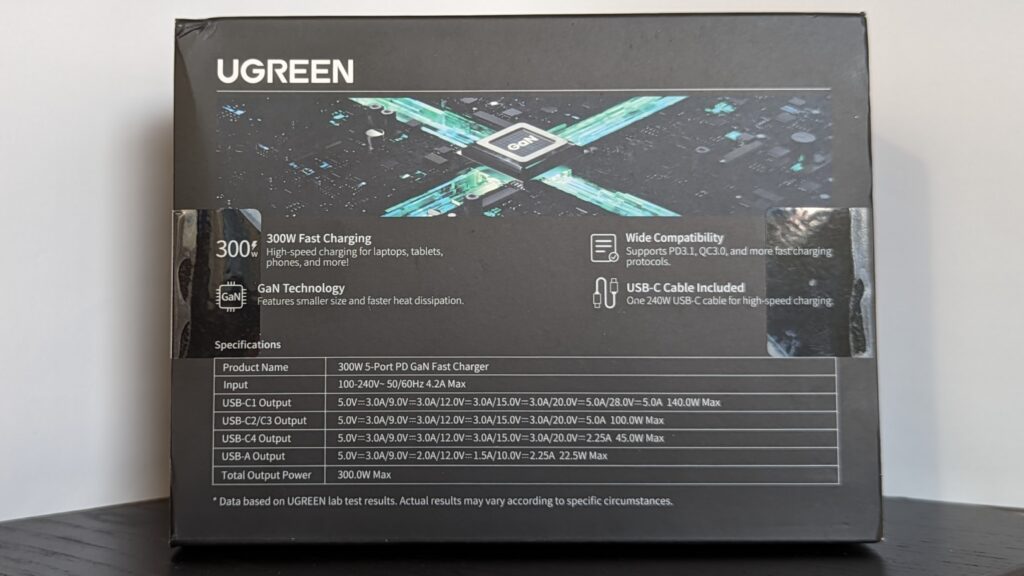 With five ports supporting fast charging, it starts to become clearer how the Nexode 300W makes sense. Ugreen didn't intend it to be used for a single device but for several. You can charge a laptop, phone, tablet, and then more all at once, all while delivering enough power to charge all of your devices as fast as possible. It does this on top of sampling the internal temperature to ensure that it never exceeds safe limits.
The ports are labelled as C1 through C4 and USB-A. Starting with C1 at the top, the ports decrease in maximum power as you move downward to the USB-A port. C1 is capable of delivering an eye-watering 140W, both C2 and C3 can provide up to 100W, followed by C4 and USB-A providing up to 45W and 22.5W, respectively.
Unboxing
Ugreen gave the Nexode 300W the same refined premium and professional aesthetic that the Nexode line is known for. Unlike the Nexode 140W, Ugreen gave the 300W a plastic exterior, and this is further belied by the release lines or seams that are visible in the finish of the exterior. While this does subtract from the premium feeling in contrast to the 140W, the hefty weight of the 300W compensates well for it. The weight and mostly uniform exterior come together to give the Nexode 300W a fairly premium feeling.
On the right-hand side, there is "300w" emblazoned in black lettering. The font is a little gamer-y in my opinion, but it doesn't look bad or detract from the aesthetic, mostly due to its less conspicuous placement toward the rear. Turning to the underside, there are some very nice silicone feet affixed to a silicone pad. Of all things, these silicone feet feel extremely premium, they have a texture that's very pleasant to the touch.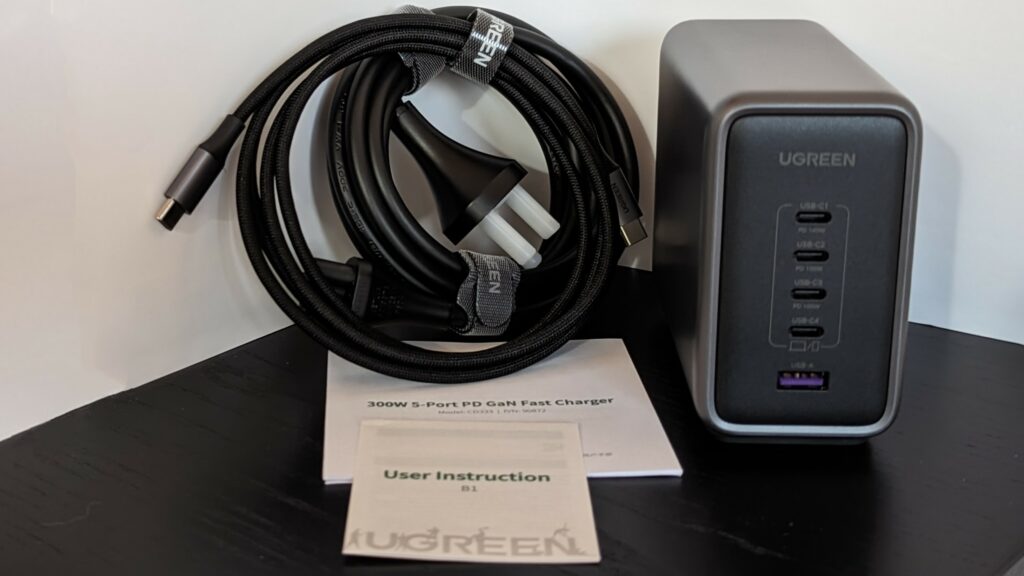 In the box, Ugreen includes the IEC C5 power adapter, the North American variant in my case. There are also the User Instruction and 300W 5-Port PD GaN Fast Charger instruction manuals. I'm not sure why there are two, except that the User Instruction manual makes mention of FCC and IC compliance, American and Canadian regulatory bodies, respectively. So, this manual is likely region-specific. Lastly, and certainly not least, Ugreen also includes a 240W capable USB Type-C to USB Type-C cable.
The unboxing experience was straightforward. It was very easy to unpack. And, as is always appreciated, Ugreen only used a couple of materials that cannot be recycled. It was well packaged, was well protected, and only included some tape to secure the retail sleeve and a single piece of foam about 2mm thick. In my opinion, an exemplary approach to packaging a product, and such a dense one at that.
Conclusion
Overall, Ugreen adhered to the well-received Nexode aesthetic. Despite the plastic exterior, it still feels premium. The Nexode 300W will surely look good in professional and business settings, all while hopefully helping keep your cables in order.
As usual, I'm always extremely hesitant to give blanket recommendations for products. The Nexode 300W is an excellent product. To that end, it's definitely on my list of recommended products, but only where suitable. There are many other chargers on the market, Ugreen's Nexode line included, that are likely more suitable for most peoples' needs than this 300W behemoth.
Source Link